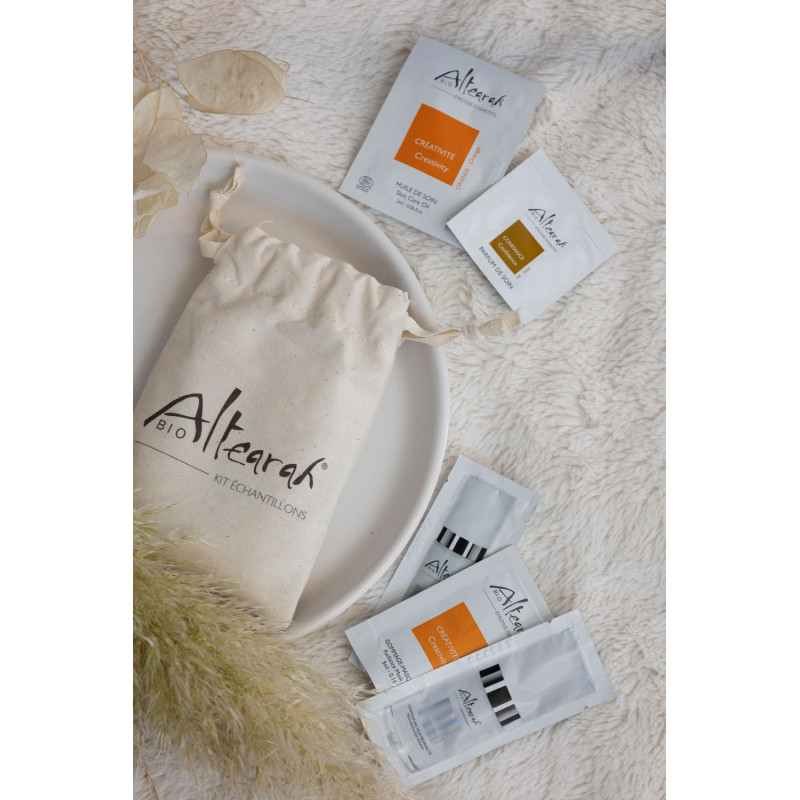  
This kit of samples contains:
- GOLD - Confidence Parfum de Soin 1ml, Altearah's flagship product, well-being to breathe. A citrusy scent that reconnects you to your charisma and brings you back to the essentials : to be you.
- ORANGE - Creativity Huile de Soin 2ml, to feel centered in your body. A dry-oil that nourishes, hydrates and regenerates the skin.
- PURE Makeup Remover Oil 3ml: an easy-to-rinse texture that melts away all types of make-up, even waterproof, and leaves the skin healthy and balanced.
- RADIANCE Mask & Scrub 5ml: A 2-in-1 product that exfoliates and smoothens all skin types. Rich in oligo elements and enzymes from Orange Native water, it tightens pores and creates a radiant complexion.
- SUBLIME Eye Solution 1ml: Specifically formulated to reduce dark circles, puffiness and wrinkles, its light texture moisturizes and soothes the delicate areas around the eyes, while the neuro-active ingredients smooth and refresh the skin.
Enjoy free delivery with a purchase of just the sample kit.